Wild Cat Daddies
The Wild Cat Daddies were a band from 2008-2013 and they were fantastic. They made this tremendous necking-in-your-parents'-sedan style of rock and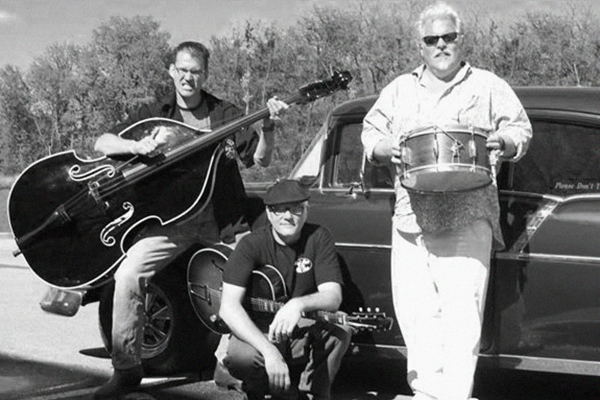 roll and did so for the right reasons. They were motivated by drinking a bit of whiskey (or rye if the mood strikes) and getting people dancing.
They started as the trio of Steve Andsager (guitars / vocals / yelping), Tim Overshiner (upright bass / backing vocals), and Joe Aguirre (drums / backing vocals). They recorded their only record with this line up in 2009.
All three songs on "Wham Bam!" (CVT-104) were absolute movers and shakers. It summed up the spirit of 50s/60s rock and roll of which we are so fond. It was mature technically and gear-wise (actually playing a double bass, a 1940s Gibson out of an Ampeg Gemini II, and a tiny gorgeous Ludwig kit) but juvenile enough to be an absolute blast in the vein of Eddie Cochran and The Troggs.
Over the next four years, Wild Cat Daddies would play in a myriad of places with a myriad of line ups. The trio still provided the core, but they would add a singer (Little Lorene), additional guitarists (John Galbraith, Anthony Zager), and even a Go-Go troupe (Hella Go-Go). Many songs were learned and much merryment was shared by musicians and audiences.
For press, merchandise, and other inquiries please contact cavetonerecords@gmail.com
Selected Press for Wild Cat Daddies
"The band matches the old-school sounds of garage rock, rockabilly and surf with new verve and life. Frisky and ferocious, these Cats are sure to a deliver a set filled with back-alley boogies that will leave listeners hot-to-trot no matter the heat index outside."
- Columbia Tribune (Columbia , Mo.)

"(Steve) Andsager savors the vintage, regional roots of American music the way some people savor old whiskey, to get both the flavor and the kick... and he kicks back a little. As one of the alpha dogs of his music generation, Steve's always gone his own way and I always pay attention to where he goes because his talented bands often shock me by recreating and then revealing to me the 'actual thing' of a music I realize I'd only been superficially appreciating. The Wild Cat Daddies, is all about proto-rock and rockabilly. Watching the Daddies recently, I thought of those who'd gone on to fame and glory and felt sorry they were missing this. Here was unfettered talent. There was joy in the air. We were all at home and laughing it up."
- Inside Columbia (Columbia, Mo.)