The Sound Bank :
Cavetone Records' Musician Owned and Operated Record Store
The Sound Bank is a musician owned and operated record store. The store's collection of vintage vinyl, stereo components, and pop music oddities is lovingly gathered and prepared by Keri Cousins and Scott Walus of The Ex-Bombers and Cavetone Records and then placed in the second floor of The Vault Arts Collective in Tuscola, IL.
From touring the United States, and visiting dozens of the best record stores in the process, the duo have brought back the best practices from the nation's top record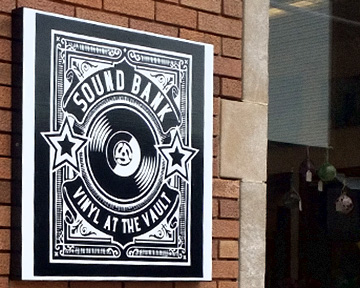 stores. These practices include cleaning every record with a VPI machine, grading them, sleeving them, and describing them with vaguely clever descriptions from listening to every disc. This touring also results in a wide variety of records not commonly available in the area.
The store exists for those who appreciate a great record and who want to delve deeper into the amazing back catalogue of popular music's sordid past. Cousins and Walus have a unique insight into this history through running the 100% analog label Cavetone Records.
Open 7 days a week from 10 a.m. until 6 p.m., the store has a constant influx of stock and Tuscola, IL is always a great day trip for:
Vintage vinyl: Thousands of records gathered from around the United States, each cleaned with a VPI machine, graded, sleeved, and described. Cleaning and listening to these records is time-consuming, but absolutely worth it as the records are worth preserving. We carry a wide-array of titles from rock, pop, jazz, punk, soundtracks, and nearly every genre.

Stereo components: We stock several options for turntables and amplifiers. All of our vintage and used record players and integrated amplifiers are fully serviced and thoroughly tested. For new components, we are an authorized Pyle Pro dealer. Even our new products are tested and set up meaning that you can take them home and listen to music immediately. We also carry other miscellaneous components

Record accessories: A record collection requires care and protection. We carry an assortment of wet and dry cleaning brushes, outer and inner sleeves, and cleaning fluids. We also carry record cleaning machines (Knosti) and vintage record carrying cases.

New vinyl: Although we specialize in vintage vinyl, we also carry new releases from musician owned and operated labels from around the greater Midwest. These labels include Cavetone (Charleston, IL), Mooster (Chicago), Gustav (Indianapolis), Woody (Kansas), and Miss Molly (Memphis).

New & Vintage shirts: We have a wide assortment of vintage and used concert and band shirts. Additionally, we screen new shirts about vinyl culture exclusively for the store.

Misc. madness: It is a record store. There is other weird stuff that defies categorization.