Vortis
Vortis is an ultra-concentrated, old-school explosion of second wave punk rock ruckus. Their sub-two minute songs epitomize Chicago punk rock and feature all of the hooks with with none of the frills.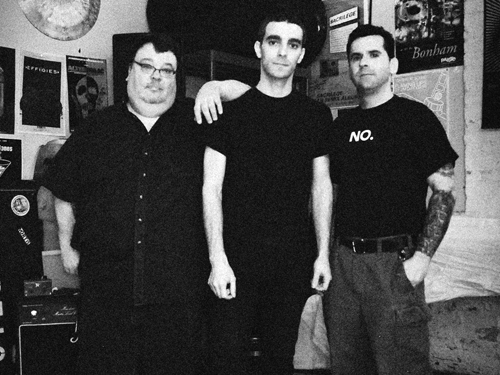 If playing the sub-sub-genre game, this Chicago three-piece belongs in the punk-before-industrialization section next to bands like Naked Raygun, Dwarves, and Hüsker Dü. This trio requires no coasts for their wave of punk rock, only those big throaty guitars and throat-shredding vocals with pointed messages anxiously crafted for the latest round of geopolitical oblivion.
One of these shredders features the line "We are Chicago," and boy howdy these three are. Chicago always did things a bit differently. Immune from external pressures, only Chicagoland could bring its blue collar instincts into the post-structuralist section of a used book store that serves Malort. Vorits is Chicago.
In addition to the jagged sonority and ultra sharp hooks, Tony Tavano (guitars / voice 1), Louie Calvano (bass / voice 2), and Jim DeRogatis (drums / many articles and books on music) spin out a vital message with a fearless attitude. The three engage their current sociopolitical circumstance as both folk protesters and activated working class provocateurs.

Vortis has been Chicago since 2000, when Tavano and DeRogatis joined forces with the infamous "agitainer" F.T. ("Fellow Traveler" a.k.a. Professor Michael Weinstein). Over the next nine years they released two cult favorites on Thick Records and garnered their reputation as inciters. 2019 found Vortis 2.0 channeling this riotous streak into their lyrics and music on their seventh album, "This Machine Kills Fascists."
In true Chicago punk rock fashion, their first long player on wax features 16 songs that have been stripped down to their bare essentials. Track after track of tight songs with firebrand lyrics careen down a rickety train track, the perfect soundtrack for a hardscrabble historical moment. Vortis clearly loves their local record stores as they lovingly pull from bands as varied as Wire, Mudhoney, and Didjits. A familiar message without feeling derivative, Vortis is every sticker on the wall at Liar's Club. Vortis is Chicago.
In 2022, their eighth album "The Miasmic Years" continues the outpouring of anarchic rock 'n roll that only a band of two decades could conjure. Ripping guitars, throbbing bass, clobbering drums, a smattering of Moog, and lyrics that could spark a riot. Rooted in Wire and Black Flag, this album digests the moment and spits it back in savage and catchy bursts of song; the way that great punk rock should be.
Vortis is currently playing shows in support of this album around the Midwest and taking Chicago with them everywhere they play. Contact cavetonerecords@gmail.com about appearances, interviews, rights, merchandise, and general correspondence.
Vortis
promo video & sound sampler




Vortis
records available here:

Selected Press for Vortis
"Vortis is far from academic… in fact, it's decidedly and proudly old-school.."
- The Onion

"The brevity of the Ramones, with an occasional Big Black abrasiveness, and the aggressiveness of Dead Boys."
- Razorcake

"Sick of vandalism masquerading as anarchy?... Vortis just may be the Molotov cocktail you're looking for."
- Chicago Tribune

Vortis
(click for hi-res)


Stage Plot
(click for hi-res)