The Tim Blys
The Tim Blys churn out a grunge-y three chord monte of mid-80s punk fracas. The trio emerged from the corn-ridden landscape of Mattoon, IL in 2012 to break up the monotony of working in a grocery store and get the best of a boss that provided the band's name. There is indeed a Tim Bly.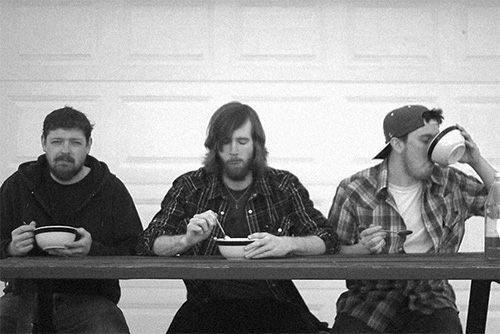 The trio combined their propensity for chronic overthinking and piles of punk seven inches in paper sleeves to create a raw and pensive breed of basement punk rock. They added their own hallmark through Nordic/baritone vocals and insightful/vitriol lyrics.
Matt Davis mashes out chords on the guitar and provides the Nordic/baritone vocals, which he shares with bassist/heartthrob Joey Wheeler. Greg "Poopstains" Coffey pounds the drums and occasionally bleeds profusely. The nickname is apropos for the drummer of a band whose set contains both Saturday morning cartoon themes and songs about a friend's suicide.
In 2015, The Tim Blys released their debut 7" record, "Dead Horse Town." Three years in the making, the record reflects the corn-induced insanity that accompanies life in central Illinois. The three song E.P. draws from a wide array of punk rock including The Replacements, Alkaline Trio (and all of its offspring), and Screeching Weasel.
The Tim Blys are currently playing random locations in a beer and cereal-fueled frenzy. For all inquiries about booking, press, rights, or merchandise, please contact cavetonerecords@gmail.com
The Tim Blys Logo
(Click for hi-res version)




The Tim Blys
merch available here:
Selected Press for The Tim Blys
"The Tim Blys was the first band to perform that night... The audience could be seen mouthing the words and got even more excited as The Tim Blys sang theme songs from TV shows [as well as] personal songs, such as one about singer Matt Davis' friend committing suicide."
- Daily Eastern News (Charleston, IL)

"What started as a way for three friends to irritate their manager has evolved over 4 years into one of Coles County's mainstay bands. When they began, the trio connected over cartoons they enjoyed and musical influences – Alkaline Trio being a key influence. On a lark, they practiced performing cartoon theme songs, Adventure Time being the first. Their whimsical, speeded-up versions have become something of a signature for the Blys since then."
- Coles County Rocks (Charleston, IL)