Sasquatch Turf War
Sasquatch Turf War is a banging riff-rock trio out of Chicago, Ill. whose instrumentals ooze, whisper and explode massive guitar, monstrous drums and manic bass all over thirsty eardrums and eyeballs.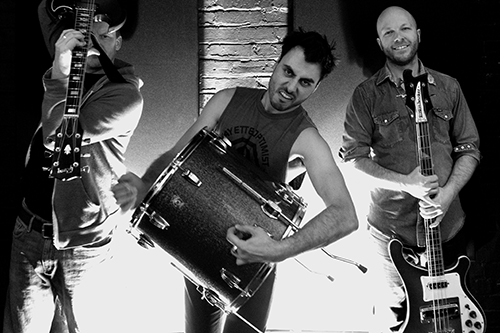 Back in 2017, guitarist Chris Reehoff (Smoke Off Vinyl), bassist John Gaetano (The Animal Party), and drummer Nathan Furstenau (Pink Frost / Pat Boone's Farm) united to exorcise their collective demons through a speedball of heavy metal / alternative / grunge / glorious stoner nonsense. Like mad scientists in a 16mm horror film, they have created a monster with the genetics of Black Sabbath, Kyuss, and the whole Sub Pop back catalogue.
The three choose to eschew conventions common to the Chicago music scene. While vocals usually drive a song, the pulsating intensity of the deep grooves and snarling fuzz take the wheel (with vocals strapped down in the back seat). They play any place with power outlets, from major venues to d.i.y. spaces. They do it to chase that cathartic feeling missing from contemporary rock music, either on a stage or a turntable.

They released their self-titled debut LP on Cavetone Records in 2018. Recorded at Electrical Audio with Greg Norman, this record creates a demonic and seismic atmosphere. It is sludge-y, it is down-tuned, it is fuzzed-out and it is glorious. Like a Led Zeppelin instrumental breakdown gone mad, the album is trip through a twisted world of sound that just plain rocks at all the right moments.
Sasquatch Turf War is currently playing shows in support of their album at any space that appreciates stage volume. Contact cavetonerecords@gmail.com about appearances, interviews, rights, merchandise, and general correspondence.
Sasquatch Turf War
promo video & sound sampler




Sasquatch Turf War
merch available here:

Selected Press for Sasquatch Turf War
"This Chicago-based trio has crafted a record of fuzzed-out, mammoth-sized riffs rolling atop crashing drums... adding up to a savage stream of sound. And while Sasquatch Turf War weaves together elements of Black Sabbath, Sleep, and Electric Wizard, the band's raucous instrumental noise is uniquely their own."
- Music Existence

"It is a freakin' face melter...I love the intensity and vibe."
- The Flabby Hoffman Radio Extravagonzo (Chicago, IL)

Sasquatch Turf War Logo
(click for hi-res)


Stage Plot
(click for expanded view)