The Ex-Bombers
The Ex-Bombers play dirtbag spy jazz or beatnik punk, depending on who describes it. Both descriptors hint at the pair's decidedly avant and seedy approach to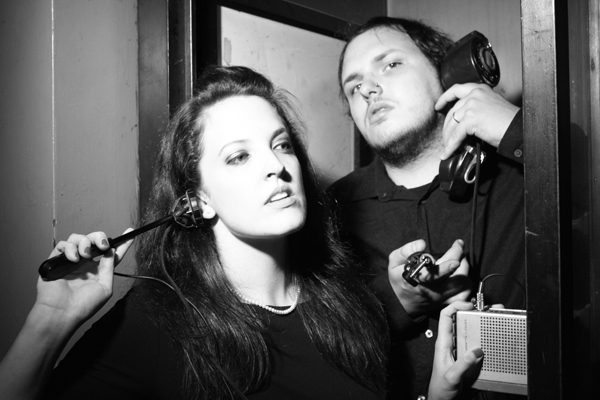 making pop music.
The duo started in 2010 in Columbia, MO before moving to their current residence in Charleston, IL (home of Eastern Illinois University). Keri Cousins provides the rhythm for the pair on a small Rogers drumset as well as her vocals. Scott Walus plays a weathered Hagstrom 8-string bass (EADG octaves) and shares vocals. They play dark but catchy songs using only these instruments, without distortion of digital trickery.
Their songs reflect the awkward years of adulthood when the hangovers last two days instead of just one. This results in an uneasy but provocative alliance between the flippant sounds of early Velvet Underground/Sonic Youth and the content and style of Soft Cell or Girls Against Boys.
In 2012, The Ex-Bombers released their full-length debut album The Tightwire on Cavetone Records. The album was recorded entirely on open reel tape and was released exclusively on vinyl without digital counterpart. The record has 10 songs and 3 interludes that combine to tell a 31 minute sonic narrative.
In October 2013, they released the anti-single "Kissing Hands, Shaking Babies" on 7 inch vinyl to much intrigue. In late 2014/early 2015, they release their second LP "Five Star Night."
The Ex-Bombers enjoy playing songs from these records, meeting interesting people, drinking absinthe, and lurking through antique malls (preferably all in the same day). For booking, press, rights, merchandise, and general correspondence, please contact cavetonerecords@gmail.com
| | | |
| --- | --- | --- |
| The Ex-Bombers official promotional video | The Ex-Bombers Merch | The Ex-Bombers Live |
Selected Press for The Ex-Bombers
"Analog is a lost art form. In an age of technological everything, instant gratification and over-saturated musical markets, Charleston, Illinois duo The Ex-Bombers have said the hell with all of it. The 8-string bass and drum combo of Keri Cousins and Scott Walus is a mono (!) experience done strictly for the love of their craft. You can only get this on vinyl, and honestly, after listening to their '31-minute narrative' you wouldn't want it any other way. The record grooves with a sultry jazz swing like something out of a Tarantino flick. It's mood music at its finest – a true experience which requires dedicated listening. The way it used to be, you know? Back when record stores still existed, and people cared about the physical product. A top notch record and package."
- Youngstown Pulse (Youngstown, OH) & Sleazegrinder (U.S.)

"With their debut full length The Tightwire, out late last year on Cavetone Records, Charleston, Illinois boy/girl bass/drums duo The Ex-Bombers made a rather bold statement by offering the album as a vinyl-only release, eschewing digital downloads or even the now-in-vogue cassette. It's a rather complicated gambit, part marketing ploy and part Luddite manifesto, embracing a certain willful obscurity while at the same time using it to attract attention. The disc is strong, 10 cuts of seedy jazz basslines, noisy punk spirit and winking lyrics… Having been recorded on analogue equipment using no effects, the songs, including highlights like the speedy title track or the laid back disenchantment of "Happening Thing," sounded much the same as they do on wax. Between the dynamic jazz-meets-garage rock tunes and the lyrics, which filter pseudo spy story intrigue through an absurdist Stephen Malkmus-esque lens, they made a convincing pitch for picking up the album."
- Shepherd Express (Milwaukee, WI)

"This album is very live and it is beautifully human. It grooves. It is sexy. It has this underlying current of intensity that surfaces in all the right places. It is strange. It is insanely clever. 'Sexy Interrogation' could easily be in the running for song of the year. Yes, it's that good. 'Happening Thing' s a hook riddled, lo-fi anthem; this is their signature song, the one that follows you home after the show. The there's the way they manage to rip the floor out from under you to get to the chorus in the title track. It all works, and it doesn't take long to notice that there is something very unique going on here... Their live show and 'The Tightwire' come highly recommended. What's that? You don't have a record player? Get one."
- Rows of Teeth (Chicago, IL)

"The modern world is a scary place. No one seems to face this fact head on day by day more than artists. On their debut album, The Ex-Bombers, from Charleston, Illinois, weave a loose concept album composed of vignettes of the human spirit feeling more and more obsolete in the name of technological "progress" and other forms of nonsense. The music itself is something that can only be defined as beatnik punk. Its cool grooves and film noir atmosphere compliment the paranoia and jadedness of the lyrics, creating something unique yet familiar... From the cool opening of 'I Can't Do Anything' to the crashing 'All I Wanted Was a Machine' and the 50s propaganda message of the Epilogue, The Ex-Bombers have created a great piece of art."
- Eleven Magazine (St. Louis, MO)

"One of the highlights [from Mooster Records distribution] for me was provided by The Ex-Bombers. This seedy pair deliver a scuzzy number "Sexy Interrogation" which really makes me think of the band playing in some dark and dingy club, lit by a few candles, raising the temperatures of those in attendance through the warmth of the track"
- Punk News (U.K.)

"Without distortion or digital trickery they play dark but catchy songs... the flippant sounds of early Velvet Underground/Sonic Youth and the content and style of Soft Cell, The White Stripes, Girls Against Boys... Interesting music, quirky, but good. Check them out."
- Punk Globe (Los Angeles, CA)

The Ex-Bombers Logo
(click for hi-res)


Stage Plot
(click for expanded view)