Apathy Wizards
Apathy Wizards are a wandering gypsy folk punk four-piece from Murfreesboro, TN. They are a mobile hootenanny, a drunken sea chantey, and the tallest of tales.

The band combines an assemblage of bizarre acoustic instruments with all of the energy and panache of traveling medicine show. And the songs? They're infectiously catchy.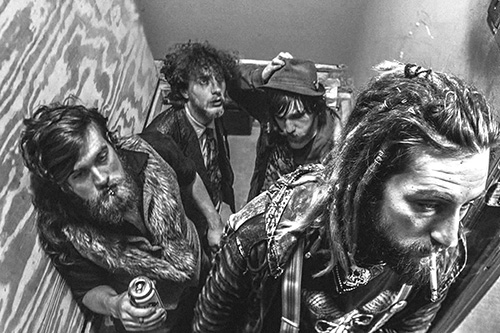 Employing a nomadic lifestyle and sound, the band has wandered far away from their beginnings in 2010. Starting as another electric band located in Muncie, IN , they now opt for performances without amplification, microphones, or even a stage.
Combine this style of performance with profound songwriting and an early punk rock ethos, and the four wizards create connection and catharsis through folk punk. The current line-up of folk punkers consists of Thor Goodman (mandolin/vocals), Weston "Hambone" Morgan (upright bass), C.D. Tolbert (cajon/suitcase/percussion/auxiliary vocals), and Steven "The Heretic" Ketzer (accordion/glockenspiel/misc.).
While their existence is transitory, their sound exists outside of time. Huge hooks, mega choruses, and driving rhythms all made with instruments that reached their heights of popularity in the 1920s. This sound is best exemplified on their third album, and first vinyl LP for Cavetone Records, "Real Live Human Beings."
Released in early 2016, the album is a true live album recorded on one hot June night back in Muncie with analog equipment and without any overdubs. It features six epic tracks of catchy folk punk driven by a frantic mandolin and guitar, stomp/clap percussion, walking bass, auxiliary melodic madness, and a very rowdy audience. The result is a wild version of Man Man, Gogol Bordello, or Andrew Jackson Jihad, unplugged and uncensored.
Apathy Wizards are currently playing shows in venues, restaurants, basements, living rooms, and street corners sympathetic to their brand of wild and raw folk punk. Contact cavetonerecords@gmail.com about appearances, interviews, rights, merchandise, and for general correspondence.
Apathy Wizards Logo
(Click for hi-res version)




Apathy Wizards
merch available here:

Selected Press for Apathy Wizards
"Muncie, Ind., band whose sound blends European flavors with bluegrass and punk. Their gypsy rock attitude is apparent from the moment Thor Goodman sings, a voice that paints images of bar life and a footloose spirit. It's rollicking music, like an elegant but drunken sing-along good time through the forest. Imagine Jethro Tull making music with Johnny Thunders in Ireland."
- Star-News (Wilmington, NC)

"A five-piece cosmic gypsy steamfolk razzmatazz extravaganza. Over that fast few years, the Wizards have become a local staple in the folk scene. Dressed as pirates, samurai, and riverboat gamblers, the Wizards aim to put on an entirely Do-it-yourself folk show that lends itself toward live audiences. Bards by nature, The Apathy Wizards deliver songs of the sky and the sea; stories hard-learned and wrapped in a lovely steampunk getup."
- 2014 GenCon program (Indianapolis, IN)

"Described as gypsy, punk, folk, pirate music, the Apathy Wizards have created a sound all their own... Dressed in kilts, leather jackets, army hats, business suits and covered in face paint, the Apathy Wizards aim to give audiences a show like they have never seen before. Sticking with the band's motto of 'Be crazy, go crazy,' they parade on the stage, messing with each other and feeding off the audience's energy."
- Ball State Daily (Muncie, IN)